If you look at the Right hand side of my page you will see it!
Take the HTML code and paste it on your sidebar!
If you do that leave me a comment and I will enter you to win a new Vintage Lane Necklace!
I will end this on Wednesday so leave a comment soon!
Here is also the code!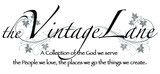 I am doing my best to be a stay at home momma and I appreciate all the support i get from my bloggy friends :)
By the way HAPPY LABOR DAY WEEKEND!